Disease and Our World: Past, Present, Future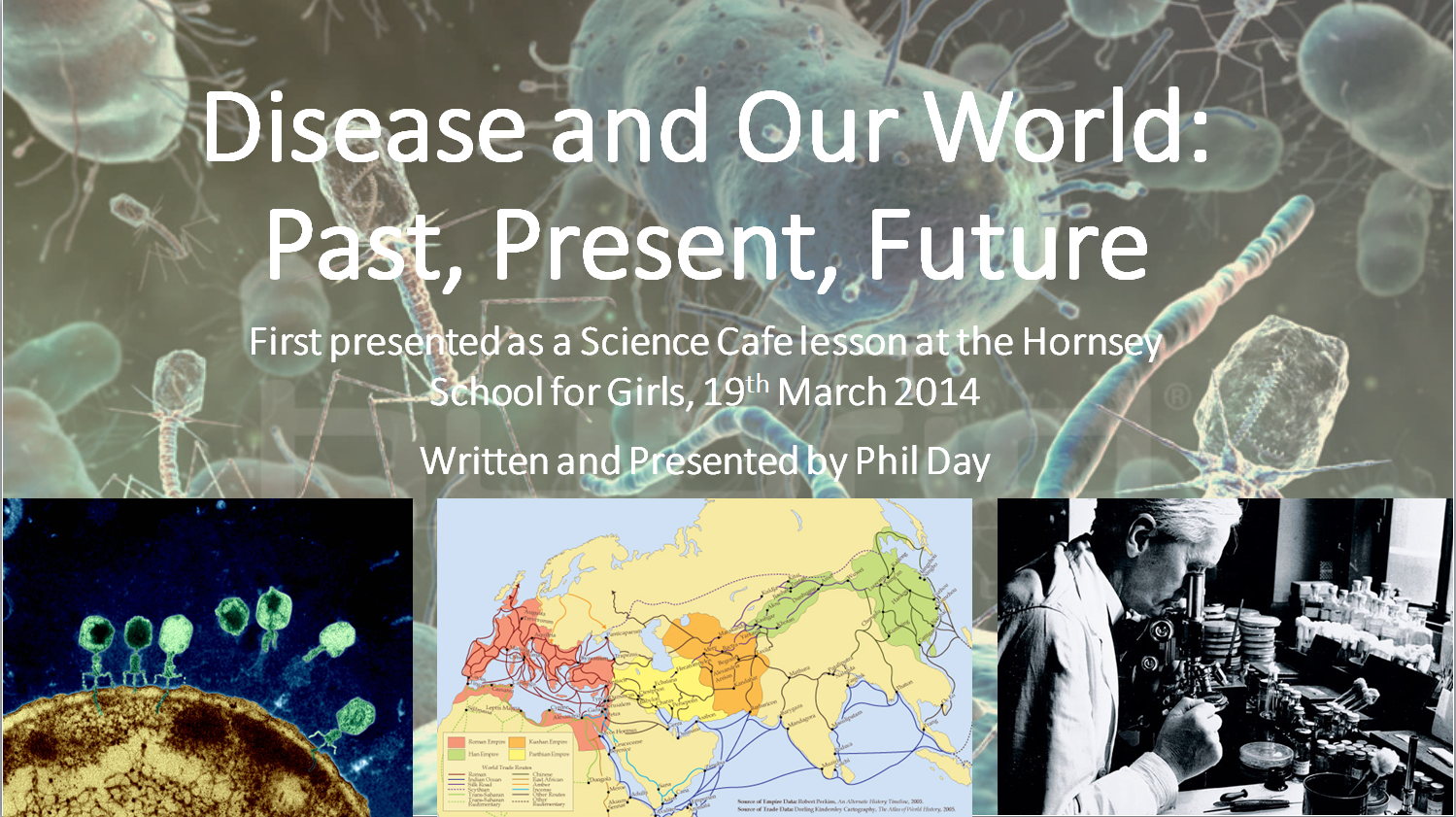 The materials linked below were presented at a 'Science Cafe' lesson at the Hornsey School for Girls in London, on Wednesday 19th March 2014. There is no 'script' for the lesson, but the content of these files give you an idea. Topics covered included:
Disease and evolution: origins, symbiosis, biological warfare
Transmission strategies and the recurrent transition from parasitism to partnership
Disease and Human History from the dawn of agriculture to the modern day
Modern Science and Sanitation v Disease; successes and limitations; what next - what should we do?
Many thanks to the staff and pupils at Hornsey for making this event happen and taking part, in particular Head of Science Louise Kothari.

If you took part in the lesson, please leave feedback here.

Philip Day
March 2014


Materials we Used
Also Recommended Reading below (pdf version here), as well as a list of links to various articles online...

Recommended Reading
For an excellent, quick introduction to the concepts discussed in this lesson, see William H. McNeill's 1993 article, Patterns of Disease Emergence in History, which appeared as a short chapter in a book by Stephen Morse. This is like a condensed version of his book Plagues and Peoples (1976).

The books listed here are the ones that have been most important in influencing the content of this lesson, and are highly recommended if you want to consider any of these topics in more detail, especially those by William H. McNeill, Frank Ryan and Lynn Margulis.

Listed alphabetically by surname:

DeFoe, Daniel, A Journal of the Plague Year (1722) - a fictionalised account of the Great Plague of London of 1665, written in the first-person perspective. DeFoe was a young child at the time of the plague, and wrote in 1722, but researched it thoroughly and heard the stories of many eye-witnesses.
Goldacre, Ben, Bad Science (2008) - Mainly a criticism of news reporting on medical science; includes a lot on the use of statistics in epidemiology (the study of diseases). Essential reading if you want to be able to reliably interpret mainstream news reporting on disease and medicine. Also very entertaining.
McNeill, J. R., Mosquito Empires: Ecology and War in the Greater Carribean 1620-1914 (2010) - explores some of the processes first developed in Plagues and Peoples in greater detail for a specific region; reveals how the Yellow Fever virus and Malaria plasmodium, aided by their mosquito vectors, ruled the Caribbean for several centuries, influencing the slave trade, preserving the Spanish Empire from European rivals before assisting several revolutions, including the American War of Independence
McNeill, William H., Plagues and Peoples (1976) - masterful account of the Human encounter with disease, and how micro-organisms shaped the fates of human societies, empires and civilizations from the dawn of agriculture to the present day. Considers the achievements of modern science in the context of humanity's long-term relationship with disease organisms, sounding a note of caution in contrast to medical professionals' optimism, which we now know to be far-sighted.
Margulis, Lynn, Acquiring Genomes (2002)
Margulis, Lynn, The Symbiotic Planet (1998) - these two books by Margulis explore aspects of life and evolution which she has worked on for several decades but has been largely overlooked by most biologists until very recently: co-operation and symbiosis. Not all symbiosis has its origins in disease, but Margulis' work is the foundations of the field in which Frank Ryan works today, and these books are brilliantly-written fascinating and eye-opening.
Ryan, Frank P., Virolution (2009) - survey of developments in evolutionary biology today exploring the roles of mechanisms of genetic innovation other than simple mutation, especially the role of viruses. The main argument is that viruses can merge with host genomes, delivering new genetic material more quickly than can be accumulated by point mutations, thus accelerating evolution. Not as technical as it sounds.


Also consider Luis Villarreal's Viruses and the Evolution of Life (2005), and Michael Oldstone's Viruses, Plagues and History (2009), which are also important books in this field, although I have not read them.

Other books which contain some related material:


Abernethy, David, Dynamics of Global Dominance (2001) - a history of the rise and fall of European overseas empires from c. 1500 to 1950, which helped shape the world today. Considers long-term patterns, including the role of disease, rather than short-term political and military events
Diamond, Jared, Guns, Germs and Steel (1997) - a history of the world which considers the role of disease in helping some societies overcome others
Hamblin, Arming Mother Nature (2013) - survey of the development of environmental and ecological weapons after World War II, including chapters on biological weapons
Keys, David, Catastrophe (2001) - story of the great volcanic eruption of 535 A.D. and the 'Justinian Plagues' of the 540s, the first global Black Death pandemic. Very interesting ideas and not technically difficult, but not rigorously linked to evidence, so handle with caution.
Lane, Nick, Life Ascending: the Ten Great Inventions of Evolution (2009) - technically challegning but very rewarding; includes the fascinating idea that death has its origins in an arms race between bacteria and viruses
McNeill, William H. & McNeill, J. R., The Human Web (2003) - diseases are communicated within and between human societies through networks of interaction and exchange (travel, trade, war, etc.). This book charts the emergence and developments of these netwokrs and how they shaped history, eventually merging into a single global web long before the internet.
Smil, Vaclav, Global Catastrophes and Trends: the Next Fifty Years (2008) - attempts to work out the rough probability of different types of disaster happening in the next 50 years, and how bad they might be. Smil suggest a viral pandemic is one of the greater threats.